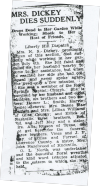 https://www.findagrave.com/memorial/30032230/hattie-dickey
https://www.findagrave.com/memorial/50226700/neal-s-dickey
Neal, born to Robert W. Dickey and Margaret E. Hedgepeth, was one child out of six. Neal married Mary Harriet May, then had seven children.
DICKEY, Neil S. The Pulaski Citizen 3 Nov 1965.
Funeral services for Neil S. Dickey, 94, resident of the Ray Branch section, were held at 2 o'clock Wednesday afternoon in Campbellsville Cumberland Presbyterian Church, conducted by the Rev. Horace Woodward of Cookeville, and the Rev. Glen Dunavant of Lynnville. Burial took place in the Campbellsville Cemetery. Mr. Dickey died at 1:50 o'clock Tuesday afternoon, November 2, at the home of his son, Harvey Dickey, at Campbellsville, after a ten weeks illness.
Born August 27, 1871, in Giles County, he was the son of the late Bob Dickey and Margaret Hedgpeth Dickey. His wife, Mrs. Mary Hattie May Dickey, died thirty-two years ago.
He was a Cumberland Baptist.
Mr. Dickey is survived y two sons, Harvey Dickey and Homer L. Dickey, Rose Hill section of Giles County; three daughters, Mrs. Owen Daniel, Decatur, Ala., Mrs. Goldman Whitehead, Winchester, and Mrs. Chester Williams, Oakland, Calif.; twelve grandchildren and three great-grandchildren; one half-brother, Bobby Dickey, Killen, Texas; and one half-sister, Mrs. Jim Davis, Lawrenceburg.